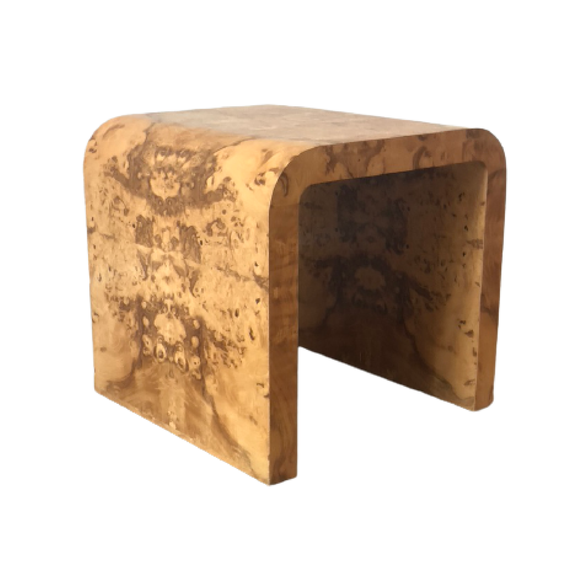 Marta Side Table (In-Stock)
$1,170.00 $0.00
Details
Available for purchase in-store and online!
Burl Wood option ONLY
Quick ship in Texas - 2 week delivery timeframe
The Marta Side Table is our classic waterfall side table with a similar aesthetic to our Caroline Console Table. Its rounded edges make the minimalist waterfall design approachable and decor friendly. This piece was designed to go next to a sofa or between two chairs.
Shipping & Delivery
Item will ship as soon as our delivery team is in your area next!
If you would like to purchase 3 or more pieces, please email contact@shopoystercreekstudios.com to receive a custom shipping quote and to process your payment.
All Oyster Creek Collection pieces are proudly made in Texas!
For more information, visit our FAQ page.
Delivery Policy
By purchasing an OCC piece, you are agreeing to the following Oyster Creek Collection policy below:
Oyster Creek Collection's dedicated delivery team will personally deliver your Oyster Creek Collection piece inside your home, assemble it (if required), place it exactly where you'd like it in your space, remove all trash, and make sure your piece is in perfect condition. Please ensure your piece can be delivered into your space by moving any existing furniture and double checking dimensions of stairwells, doorways, and hallways.
Oyster Creek Collection requires a signature at delivery which will verify that your piece has been received in perfect condition. If there are any damages upon delivery, please do not accept delivery and Oyster Creek Collection personnel will make sure these damages are repaired immediately.
*Please note: By purchasing an OCC piece, the customer is acknowledging that OCC is not responsible for any repairs or damages once the piece is installed in the customer's home or if delivered to a receiver warehouse.
If an OCC piece is being delivered to a receiver/warehouse, OCC is NOT responsible for any adjustments and/or damages after delivery that need to be made from the warehouse to the destination. We suggest delivering to the area of installment directly as our delivery company can adjust on site. If any OCC piece needs to be adjusted/and or repaired after a move from a receiver/warehouse – this responsibility falls on the customer. Our delivery company will take documentation photos upon arrival to the receiver/warehouse noting the piece in original condition.
Our pieces are meant to be delivered to the home.
Our pieces are NOT meant to sit in a warehouse for an extended period of time because it can cause defects.
Our pieces are NOT meant to be wrapped for any duration of time.
Our pieces are NOT meant to be left in a garage for storage.
If your OCC piece occurs damages/defects after delivery - the customer can hire Oyster Creek Collection's manufacturer to repair. The repair cost + delivery fees will be passed along to the customer.